After the demise of Wilko, and other big retailers, is there a future for the high street?
After the demise of Wilko, and other big retailers, is there a future for the high street?
The closure of all the Wilko high street stores in October was the latest in a long line of retail companies, including Debenhams and Woolworths, which have entered administration after falling into financial difficulty.
These companies have subsequently had all their shops closed and survive only as online retailers.
Understandably, this series of high-profile business failures has led many people to predict the ultimate decline of the high street as the beating heart of many towns in the UK. Yet, there is also cause for optimism as retailers and authorities take steps to arrest the decline.
Read about some of the reasons for the demise of Wilko in particular, and high street shopping more generally, and discover what the future might hold for these businesses.
The cause of Wilko's demise: what went wrong?
There's no doubt that the pandemic played havoc with many retail company's finances. A series of lockdowns reduced footfall to a minimum, and the subsequent need for social distancing, and ongoing health concerns, dissuaded many people from returning to high streets, even when they were able.
But other specific causes also contributed to the collapse of Wilko.
According to the Retail Insight Network, the company had been struggling for some time and, even with an online presence, had underperformed against competitors during the pandemic lockdown.
Furthermore, the Guardian reported that it had "failed to adapt to the changing retail landscape and capitalise on emerging trends".
Moreover, Wilko's traditional town centre locations proved to be an expensive liability as customers have increasingly started to favour larger out-of-town locations.
The collapse also reflects the broader economic challenges faced by many high street retailers in recent years.
The rise of online shopping
Given the critical importance of footfall to the overwhelming majority of high street retail stores, it was inevitable that the prolonged periods of lockdown during the pandemic would hit balance sheets hard.
Furthermore, the post-pandemic economic situation, with a period of high inflation and high borrowing costs, has not been conducive to any financial recovery.
For example, consider the chart below, showing internet sales as a percentage of all retailing: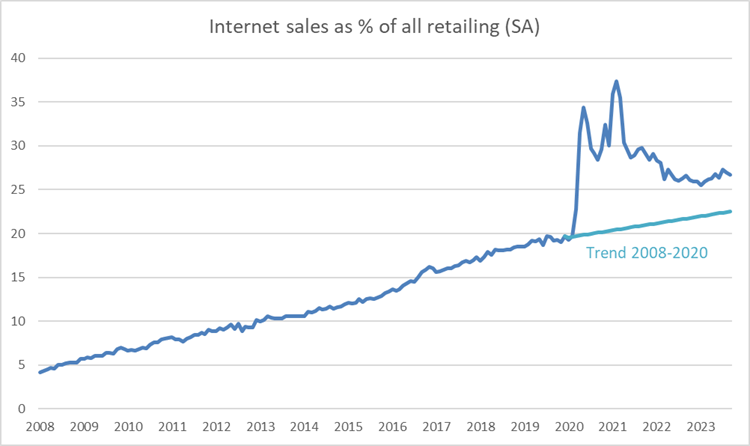 Source: Retail Sales Index
The chart shows how the pandemic accelerated the already growing share of online retail at the expense of in-person shopping.
It seems that the market share of online retail will settle markedly above pre-Covid trends, as the pandemic effectively accelerated the shift to online shopping by about five years.
As a result, many retailers, including Wilko, have struggled to survive in this challenging environment.
Out-of-town retail: pioneering the future of shopping
Large out-of-town shopping centres and malls can often offer a better shopping experience. Subject to transport, many people find it easier to travel to a large retail development than an urban or town centre shopping area.
Such areas provide a series of benefits for both shoppers and retailers, including:
Convenient out-of-town locations and free parking
A range of food outlets and entertainment options, such as multi-screen cinemas leading to higher footfall
Lower business rates and service charges, compared with high street locations
Flexible and modern units that make outlet design easier and enable better use of space
Retail synergy for online shopping, as easily accessible outlets can more easily facilitate returns and "click-and-collect" options.
High streets should adapt for modern shoppers
Some positive news is that UK shoppers still retain a strong loyalty to high streets. A Statista study revealed that 82% of consumers in the United Kingdom said that they would care a bit or a lot if their high street disappeared.
The traditional high street has long served as a focal point for the economic and social life of millions of people, but it must reinvent itself for the modern shopper.
By definition, high streets are at the centre of towns and within walking distance, or a short bus or cycle ride, for a large number of people.
This means that there is always a potential market for high street activity, as long as it's a proposition designed to address people's needs and preferences.
The increase in the number of restaurants and cafés in town centres is a reflection of this, and a clear sign that people are prepared to visit high streets for purposes other than shopping.
Writing in the Times soon after the Wilko demise, James Timpson, CEO of the eponymous shoe repair chain, and something of a retail guru, suggested that retailers would need to be adaptable and flexible in their thinking.
This also means they are being challenged to identify which parts of their offerings can't be replicated by online purchases.
Pop-ups and independents: filling retail gaps creatively
The fragmented ownership of the high street means that small landlords are especially sensitive to vacancies. That said, it means that high streets can effectively become a laboratory to test new concepts.
The growing preponderance of pop-up stores is one result of this trend, where temporary spaces spring up as brands seek to reach new audiences without the commitment and cost of long-term leases. This automatically increases the dynamism of the high street shopping experience, and can attract a new, and younger, type of shopper.
Independent businesses are another beneficiary. While the monoculture of chains like Wilko has been in decline, there are signs that independent stores have been stepping in to fill the vacuum.
This is thanks to the low barriers to entry, making high streets less generic, more local, and authentic and, as a result, more attractive as places to explore.
Even art galleries and community-led spaces have benefited, with artists and creative groups taking over empty commercial spaces for exhibitions and other projects.
Others have attempted to make their stores more attractive with innovative design in order to draw in younger, more social media-savvy consumers.
According to a Fashion United report, an innovative new project funded by Legal and General Investment Management has recently offered young entrepreneurs a shop with no rent or business rates payable for two years to enable them to develop the retail offers.
Navigating challenges: the need for government innovation
Despite those innovative initiatives, there is still an excess of retail space, evidenced by boarded-up shops in most high streets.
This needs to be tackled with supportive action, coupled with innovative thinking, from Westminster and local town halls.
Liberalisation of planning regulations would allow existing retail outlets to be repurposed for other uses and increase footfall – the lifeblood of any high street.
The introduction in 2020 of a new "Category E" designation of mixed commercial usage was a positive step forwards in this regard.
With more of this kind of thinking, it may be more appropriate to talk of a rebirth of the high street, as they become centres of community and places for "doing" rather than "shopping".
As the Business Retail Consortium put it, the high street is not dead, it just has a new purpose.
Get in touch
If you'd like to talk to us about how the changing face of high street retailing is affecting your clients, we would be happy to discuss their needs and see if we can help.
To find out more, speak to the Business Development Manager in your local office.